MaxiFat®-T16 increases milk yields, milk fat and helps to improve overall livestock body conditioning.
It is an essential fat source produced using natural Glycerin. Our product can be fed as part of your Total Mixed Ration (TMR), top dressed, or as part of a manufactured blend.
A hard fractionated vegetable oil that comes in prill or bead forms, MaxiFat®-T16 comes ready to feed and is easy to store. It is white in color and highly palatable due to its natural glycerin content.
Typical Analysis
Product Type
Fat content
Calcium
Moisture
C16:0
C18 and higher
ME/KJ DM
Melting point

High C16 Fat
99% min
–
Max 1%
85-88%
Max 12%
38
50-60°C

Highest C16 Fat
99% min
–
Max 1%
98-99%
Max 2%
39
59-63°C

Calcium Soap
82.5-85%
8.5-9.5%
4-5%
48%
50%
33
100+°C

Triglyceride
99% min
–
Max 0.15%
71-76%
22-27%
–
55°C
Typical Analysis
Product Type
Fat content
Calcium
Moisture
C16:0
C18 and higher
ME/KJ DM
Melting point

High C16 Fat
99% min
–
Max 1%
85-88%
Max 12%
38
50-60°C

Highest C16 Fat
99% min
–
Max 1%
98-99%
Max 2%
39
59-63°C
Typical Analysis
Product Type
Fat content
Calcium
Moisture
C16:0
C18 and higher
ME/KJ DM
Melting point

Calcium Soap
82.5-85%
8.5-9.5%
4-5%
TB°C
TB°C
33
100+°C

Triglyceride
99% min
–
Max 0.15%
71 – 76%
22 – 27%
–
55°C
Benefits of feeding MaxiFat®-T16:
• Increases milk yield
• Improves body conditioning
• Higher fat production
• Increases fertility and lifetime productivity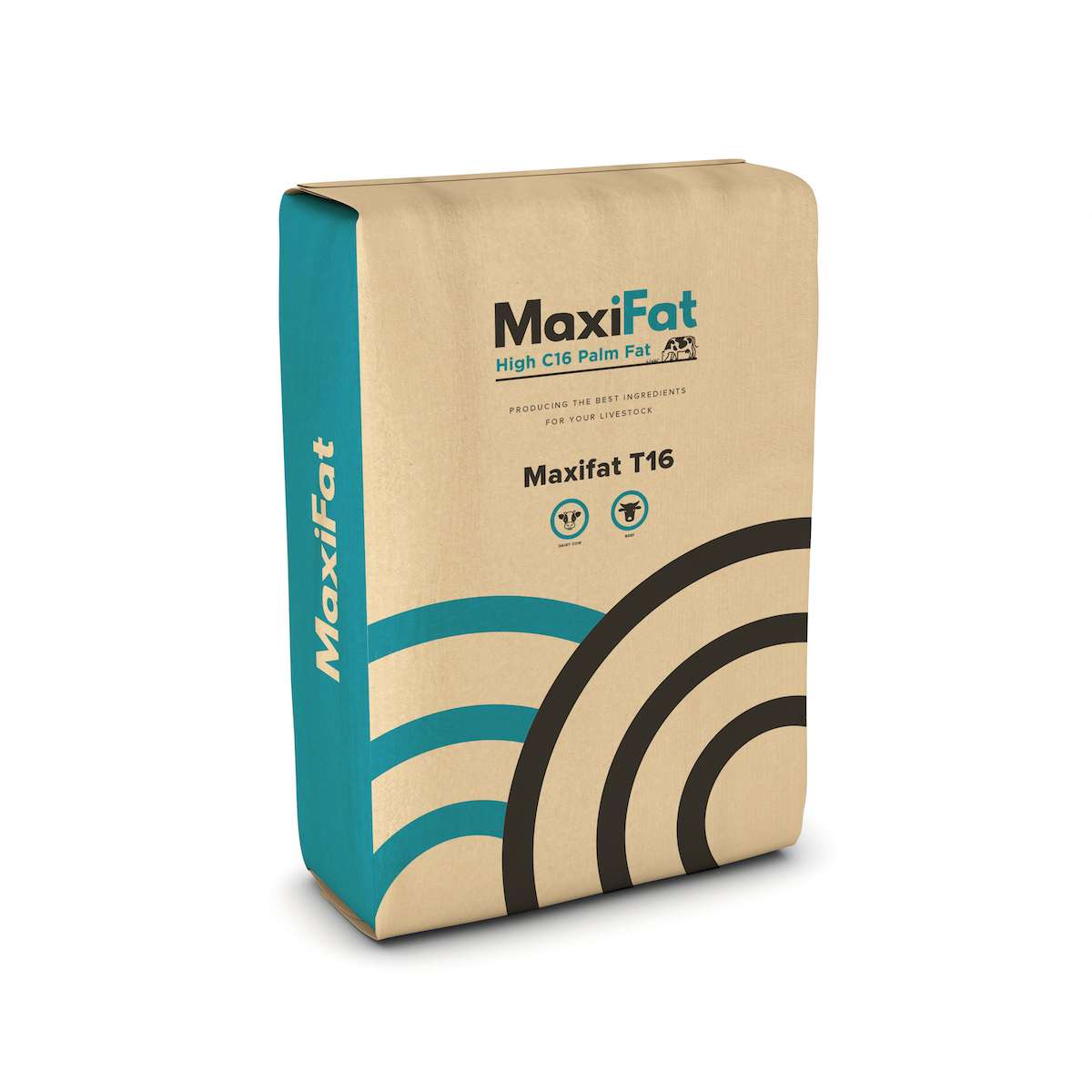 Frequently Asked Questions